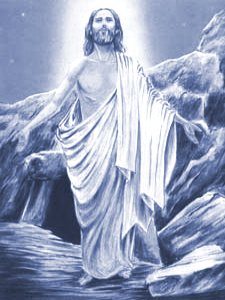 I HAVE BEEN PREPARING YOU
I know it seems I have allowed you to be tested beyond what you thought you could bear, and that you've come to the edge of defeat and failure. But it was during those times that you found out how much I loved you, and that I would never leave or forsake you. I was there with you all the time in the midst of all you were going through. My hand was always upon you and the situation; I never took My eyes off of you. What you thought was going to take you under, only made you stronger. I have been preparing you and building you up for such a time as this.
I know at times you felt others did not understand you, much less did you understand yourself? Confusion covered you and you felt alone. You felt everything around you seemed to be closed off to you. While you were hidden away I was working on you. Look at what being closed off has done for you; now you are coming forth refined as pure gold. You are not the same person you once were. You are becoming more like Me. Isn't that what you wanted? Begin to say "Christ dwells in me, He is mine and I am His"
All that you went through, all that was done to you; I have taken and used it. all the past mistakes and failures which were meant to destroy or even kill you, I have taken and formed you into a strong warrior. You may have scars but they are marks of your testing. They are medals of your battles. Lift your head up and say "The Lord has prevailed in my life" Look forward, no longer hang onto the past. There is nothing there for you anymore.
Remember the words I have spoken and get ready to move forward. All is before you, nothing is behind you. Hold to My words and reject the lies of the past. You have been prepared; stand, ready, listen to My voice. I have seasoned you with testing and trials, you are well ready. You are ready because I have prepared you.
Job 23:10 But he knows the way that I take; when he has tested me, I shall come forth as gold
Philippians 3:13-14 Brethren, I count not myself to have apprehended: but this one thing I do, forgetting those things which are behind, and reaching forth unto those things which are before. I press toward the mark for the prize of the high calling of God in Christ Jesus
CALAMITY JANE KIRK SHOWALTER
Proverbs 1:26
Wisdom says, I also will laugh at your calamity; I will mock when your fear cometh;
Proverbs 1:25-27 (in Context) Proverbs 1 (Whole Chapter) Other Translations
Who is Jane Kirk Showalter? and why? The last name sounds familiar. There are some Showalters from Lynchburg, Virginia. But no woman with a name like Kirk was known from recent memory in Richmond, VA. It seems as though Kirk (she doesn't seem to like to be called Jane) came about after the retiring of Alice Lynch, long time voter registrar for the City of Richmond. This writer has not found any information as to why Showalter was selected for the position. Was there anybody in her family who was a politician?
We really don't know who she is, but at this point all of us know something is wrong with the way she handles the Office of the Registrar. It is obvious that her employees are scared to death of her as well as the Richmond Board of Electors. Showalter is loud and silly. She apparently has no qualifications to be a manager or if she does she does not know how to use them. She has great people in her office who cover for her (she often comes in to work around 10 am, but she overlooked them to bring in a very young man by the name of David Levine to be the assistant voter registrar. Wonder why the former assistant left and went to Chesterfield. Customer service is definitely not Calamity's best suits.
The problem is that she was hired to give customer service to voters and candidates for office in Virginia. Because of the uproar over how she qualifies candidates, many think she is in cahoots with Dwight Jones and may be accepting bribes to determine who is qualified. That would mean that she could determine to disqualify whomever she wants and maybe she did. In this writer's case, out of 600 signatures, Showalter said that only 156 were qualified voters. That meant according to Calamity, less than 30% of the first stack of voters submitted were qualified voters. Showalter refused to check my petition signatures on a timely basis and nearing the end of the qualifying period, she held my signatures for seven days directly before the deadline and did not count any of my additionals until the very last day. As a candidate for mayor, 500 signatures were needed. Fifty from each district (9x 50 = 450 and 50 extra from any district). To this day, I do not truly know if I qualified or not because Showalter seems to have no ability to be truthful in what she does and how she does it or she was so adamant that Dwight Jones be the only name on the ballot for mayor that she thought she had the power to carry off the lie. Other candidates have said that she did not count qualified voters clearly listed on their sheets. See other information concerniong state rules on this website.
Dwight Jones Did Not Qualify
Calamity should be investigated. The fact that the State Electoral Board is backing her when there was such a lack on her part as to how she operated according to the law and the registrar's procedures that she should have been fired. The citizens of Richmond do not need another employee who treats its citizens like slaves. Mind you, she did not look closely at Dwight Jones' petitions. If she had, she would have found some instances of criminal intent. The Virginia Code states that anyone falsely signing the petition as the circulator is guilty of a felony which is punishable by a maximum fine up to $2,500 and/or imprisonment for up to ten years. If a conspiracy exists perhaps several people will go to jail. This is serious stuff.
Besides being down right nasty, Calamity Jane Kirk Showalter, is a worse manager. There are no real procedures for the office and two different people can ask the same question and get two different answers. She really did not try to help any body to qualify by timely looking at their signatures (except for Dwight Jones) and she did not provide the proper information to the candidates. We do not need people like her in Richmond, Va. We have enough problems. There are qualified people right here in Richmond who can do a much better job. She is paid over $100,000 per year for making a mess. The attorney general should look into what she has done before he defends her in any law suit. She did this to herself while the State Board of Elections and the Richmond Electoral Board did little to stop her mad tirade of doing just what she felt like doing. Jane K. Showalter should be prosecuted and fired for her deliberate unlawful acts to keep candidate names off the ballot.
Duties of the Registrar of Richmond
Maintaining the office of the General Registrar and establishing and maintaining additional public places for voter registration; Participating in programs to educate the general public concerning registration and encouraging registration by the general public; Providing the appropriate forms for applications to register and to obtain the information necessary to complete the applications; Accepting registration applications or requests for transfer or changes of address submitted for a resident of any other county or city in the Commonwealth; Preserving order at and in the vicinity of the place of registration; Maintaining the official registration records for his\her county or city; Verifying the accuracy of the pollbooks provided for each election by the State Board of Elections and making the pollbooks available to the precincts; Maintaining accurate and current registration records and complying with the requirements of the Code Of Virginia, Title 24.2 - ELECTIONS , for the transfer, inactivation, and cancellation of voter registrations; review any petition required by political parties in its nomination process to determine whether those signing the petition are registered voters with active status.
State Board of Elections and Richmond Registrar in Violation of State and Federal Law
Candidate List for November Election must be invalidated
We have completed research and have documentation that determines that the Richmond registrar, the State Board of Elections and the Richmond Electoral Board have failed to follow the law regarding the balloting process as set forth in Section 24.2 of the Code of Virginia and the procedures manual entitled GREBook.
Because the lawfully provided stipulations of the election laws and procedures have been disregarded and broken by both the Richmond registrar and the electoral boards, the entire ballot for the local Richmond elections (schoolboard,city council and mayor) is illegitimate and must be voided for the November 6,2012, election. We have found with documentation that the Richmond registrar, the Richmond Electoral Board and the State Board of Elections have
* Failed to check for validity the circulators of the petitions
* Failed to maintain records
* Failed to forward documentation for review and acceptance
* Failed to check petition signatures for forgeries
* Failed to notify candidates of deficiencies
* Failed to determine the unlawful locations where signatures can be gathered
* Failed to notify candidates of deficiencies in a timely manner and
* Failed to remove candidates from the ballot who are in violation of the reporting requirements.
We hereby notify law enforcement agencies, the media, the citizens of Richmond and the United States that the voting rights of our citizens have been violated and require immediate remedy. We have clear violations of Virginia law and US Constitution being carried out by the bodies governing our election. The current Richmond local ballot must not go forth as presented to the State Board of Elections.